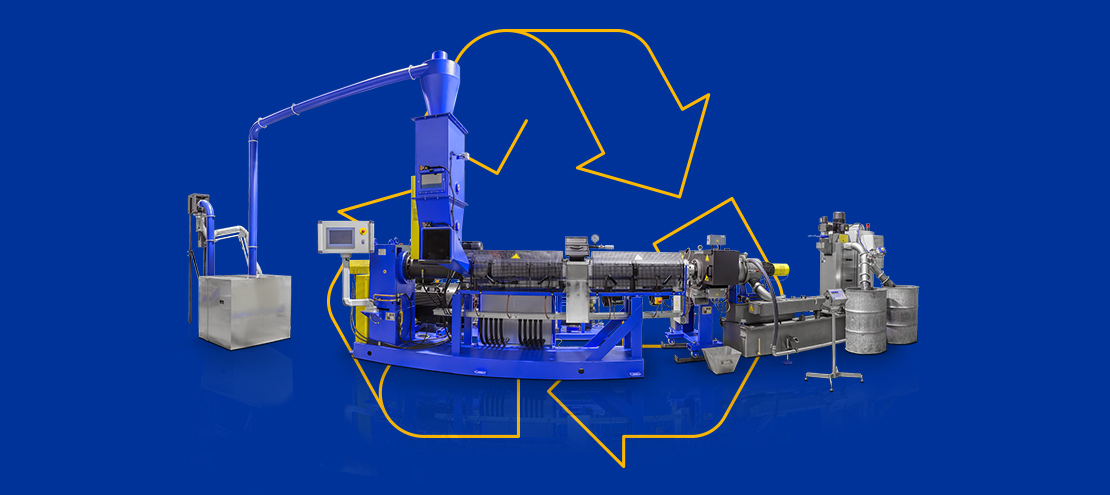 Off-line re-pelletising systems for thermo-plastic plastics
Our recycling extruders are optimised for the feeding of light, non-free flowing feed materials.
Our special screw geometry makes it possible to process even extremely light feed materials without pre-compaction or thermal pretreatment. As a result, there is no thermal and oxidative preloading of the feed material in our systems, e.g. by agglomerators or cutting compressors, which is noticeable in the achievable granulate quality.
Our pelletising extruders for non-free-flowing feed material are equipped as standard with a feed silo, which is normally mounted directly on the feed area of the extruder. The feeding of our extruders can be discontinuous and thus minimises the manpower requirement in the material feeding area. Our modular systems are optimally designed for the respective application.
Our product range includes standard systems with capacities from 50 kg/h to over 1,800 kg/h for all thermoplastics.
Preliminary shredding, usually with a granulator.
The already shredded input material is transported by fan into the extruder silo.
A stirrer integrated in the silo ensures even feeding of the extruder regardless of the material type. The extruder is then fed with the shredded material.
In the extruder, the heart of the plant, the material is then gently melted under hermetically sealed conditions and thus without oxidation.
It is then transported to the next downstream screen changer and then on to the pelletising head where the melted material is processed to form pellets and then dried in a centrifuge.
The pellets are transported by a fan into a big bag station, a silo or a container.
For thermo-plastic plastics
Recycling of edge trim, drive rollers and waste produced by the plastic processing industry
Designed for various input materials, e.g. film and non-woven, injection-moulded parts, profiles, tubes, drive lumps, milled goods, hollow objects, fibres, yarns, monofilaments and much more
Also suitable for printed and coated materials
Clean production waste and lightly soiled or damp materials can be processed just as easily
The recycling is carried out in a single process and results in first-class pellets that can be processed further in a range of different processes
Our supply range includes standard systems with material through-put performances from 30 kg/hour to more than 1,300 kg/hour
Feeding can be carried out using various methods: Manually by the plant operator, pneumatically via a feed pipe, via a conveyor belt, or fully-automated with a draw-in roller
The conical special screw enables processing of both heavy and light materials that do not flow freely. If necessary, the screw geometry can be matched to the raw materials
The screw design guarantees a gentle and homogenous melting of the plastic, without the need for precompaction or material damaging pre-treatment
The combination of hot and cold zones benefits the melting process and enables the setting of rheologically optimised melting temperature profiles
The robust, open construction of the Sikoplast plants not only ensures simple operation, but it also eases access and the maintenance of the system as well
Modularly constructed Sikoplast systems enable a flexible position and composition of the components desired by the client
At the request of the client our systems can be fitted with additional dosing stations to enable the addition of additives or master batches
The regeneration extruder is fitted as standard with a bunker silo mounted to the infeed area. This acts as a buffer and ensures constant material through-put
Thanks to the integration of melting filters, the material purity levels are increased and/or can be adapted as required to meet the current needs
When the materials are critical (damp; printed) the extruder is fitted with a degassing zone and a vacuum pump to extract the volatile components from the melted materials